Keep your public radio station in your community.
Our WMUK donation page is undergoing maintenance and will be periodically unavailable. We apologize for any inconvenience. You can make your contribution to WMUK through Western Michigan University.
Simply search for and select "WMUK Unrestricted Fund" in the Designation Options area. Your entire gift will go to WMUK 102.1 FM unless you choose to split your contibution.
Make a Secure Credit Card Donation
Thank you! Your support makes WMUK 102.1 FM possible.
Get even more than great programming with the WMUK Member Card!
Members contributing $120 or more can receive 2-for-1 savings at 130+ Restaurants, Performances and Attractions! Read More...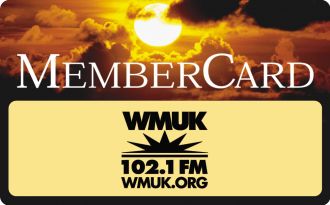 Donate Your Vehicle

Employer Matching Search
Search below to find out if your eligible for employer matching, then donate using your preferred method and include your employer registration number to have have your gift matched!